Shop Popular Categories
Taking care of our health is important at any age, and there are certain areas of our body that require extra attention.
Explore our popular categories below to discover new ways to improve your health and wellbeing.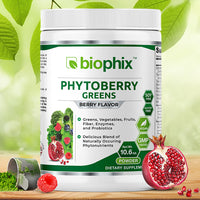 Delicious Superfood Powder!
Biophix Phytoberry Greens is a high-quality superfood powder that contains a unique blend of fruits, vegetables, probiotics, organic foods, digestive fibers, Trace Minerals, Resveratrol, Apple Pectin and more, to support overall health and well-being.
read more
Testimonials
Great value for the amount received. Much better quality than those purchased at my local pharmacy.

Mark - Grayson, GA
I have ordered vitamins many times over the years and have never been disappointed. They are excellent. My order arrived on time and in perfect condition.

Diane - Township of Washington, NJ
The supplements were shipped and received quickly which I am very thankful for!

Chris - Kaunakakai, HI